We present to you the sixth chapter of the N&G 2022 Yearbook
Meet the authors, find out more about their topic and download the full book.
Preterm and Term Infants

by
JB van Goudoever and Dominique Turck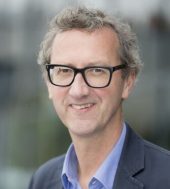 JB van Goudoever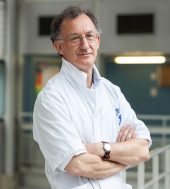 Dominique Turck
Introduction
Nutrition and growth of preterm infants has been and will be a topic that attracts lots of attention. This year we decided to address four topics on which several interesting studies have been published. Other topics have been intentionally left out, despite some very
good papers on those specific topics. However, by including papers on enteral and parenteral feeding, necrotizing enterocolitis (NEC), and long-chain polyunsaturated fatty acids (LC-PUFAs), we thought to provide you with ample interesting topics that might change
your view on how to take care of premature infants on your ward. For term infants, the review addressed five different topics: breastfeeding and infections in early childhood; breast milk substitutes (BMS) with papers on low protein formula, growth and body composition, LC-PUFAs and cognitive function, and a useful guidance on clinical trials of BMS; prevention of allergy with two papers on the impact of hydrolyzed protein formula, one paper on the effect of early infant formula introduction, and guidelines from the European Academy of Allergy and Clinical Immunology (EAACI); young child formula and iron deficiency (ID); and early gluten introduction and celiac disease (CD).
Key Referenced Articles
Preterm Neonates
Parenteral Nutrition
The efficacy and safety of peripheral intravenous parenteral nutrition vs 10% glucose in preterm infants born 30 to 33 weeks' gestation: a randomised controlled trial
Suganuma H, Bonney D, Andersen CC, McPhee AJ, Sullivan TR, Gibson RA, Collins CT
BMC Pediatr 2020;20:384
Nutritional management of the critically ill neonate: a position paper of the ESPGHAN Committee on Nutrition
Moltu SJ, Bronsky J, Embleton N, Gerasimidis K, Indrio F, Koglmeier J, de Koning B, Lapillonne A,
Norsa L, Verduci E, Domellof M; ESPGHAN Committee on Nutrition
J Pediatr Gastroenterol Nutr 2021;73:274–289
Enteral Nutrition
Enteral feeding and necrotizing enterocolitis: does time of first feeds and rate of advancement matter?
Masoli D, Dominguez A, Tapia JL, Uauy R, Fabres J; for the NEOCOSUR Collaborative Network
J Pediatr Gastroenterol Nutr 2021;72:763–768
Slow advancement of enteral feed volumes to prevent necrotising enterocolitis in very low birth weight infants
Oddie SJ, Young L, McGuire W
Cochrane Database Syst Rev 2021;8:CD001241
Routine prefeed gastric aspiration in preterm infants: a systematic review and meta-analysis
Kumar J, Meena J, Mittal P, Shankar J, Kumar P, Shenoi A
Eur J Pediatr 2021;180:2367–2377
Composition of coloured gastric residuals in extremely preterm infants – a nested
prospective observational study
Athalye-Jape G, Nettleton M, Lai CT, Nathan E, Geddes D, Simmer K, Patole S
Nutrients 2020;12:2585
Individualized target fortification of breast milk with protein, carbohydrates, and fat for preterm infants: a double-blind randomized controlled trial
Rochow N, Fusch G, Ali A, Bhatia A, So HY, Iskander R, Chessell L, El Helou S, Fusch C
Clin Nutr 2021;40:54–63
Long-Chain Polyunsaturated Fatty Acids: Docosahexaenoic Acid and Arachidonic Acid
Docosahexaenoic acid and arachidonic acid levels are associated with early systemic inflammation in extremely preterm infants
Hellstrom A, Hellstrom W, Hellgren G, E H Smith L, Puttonen H, Fyhr IM, Savman K, Nilsson AK, Klevebro S
Nutrients 2020;12:1996
Effect of maternal docosahexaenoic acid supplementation on bronchopulmonary dysplasiafree
survival in breastfed preterm infants: a randomized clinical trial
Marc I, Piedboeuf B, Lacaze-Masmonteil T, Fraser W, Masse B, Mohamed I, Qureshi M, Afifi J,
Lemyre B, Caouette G, Bartholomew J, Nuyt AM, Julien P, Synnes A, Lucas M, Perreault T,
Strueby L, Cieslak Z, Yusuf K, Pelligra G, Masse E, Larsen B, de Cabo C, Ruth C, Khurshid F,Lavoie PM
JAMA 2020;324:157–167
Efficacy of docosahexaenoic acid for the prevention of necrotizing enterocolitis in preterm infants: a randomized clinical
Bernabe-Garcia M, Calder PC, Villegas-Silva R, Rodriguez-Cruz M, Chavez-Sanchez L,
Cruz-Reynoso L, Mateos-Sanchez L, Lara-Flores G, Aguilera-Joaquin AR, Sanchez-Garcia L
Nutrients 2021;13:648
Effect of enteral lipid supplement on severe retinopathy of prematurity: a randomized clinical trial
Hellstrom A, Nilsson AK, Wackernagel D, Pivodic A, Vanpee M, Sjobom U, Hellgren G, Hallberg B,
Domellof M, Klevebro S, Hellstrom W, Andersson M, Lund AM, Lofqvist C, Elfvin A, Savman K,
Hansen-Pupp I, Hard AL, Smith LEH, Ley D
JAMA Pediatr 2021;175:359–367
Necrotizing Enterocolitis
Early use of antibiotics is associated with a lower incidence of necrotizing enterocolitis in preterm, very low birth weight infants: the NEOMUNE-NeoNutriNet Cohort Study
Li Y, Shen RL, Ayede AI, Berrington J, Bloomfield FH, Busari O, Cormack BE, Embleton ND,van Goudoever JB, Greisen G, He Z, Huang Y, Li X, Lin HC, Mei J, Meier PP, Nie C, Patel A, Sangild PT, Skeath T, Simmer K, Uhlenfeldt S, de Waard M, Ye S, Ye X, Zhang C, Zhu Y, Zhou PJ Pediatr 2020;227:128–134.e2Association of initial empirical antibiotic therapy with increased risk of necrotizing enterocolitis
Rina P, Zeng Y, Ying J, Qu Y, Mu D
Eur J Pediatr 2020;179:1047–1056
Antibiotics and the developing intestinal microbiome, metabolome and inflammatory environment in a randomized trial of preterm infants
Russell JT, Lauren Ruoss J, de la Cruz D, Li N, Bazacliu C, Patton L, McKinley KL, Garrett TJ, Polin RA, Triplett EW, Neu J
Sci Rep 2021;11:194